FantasyRama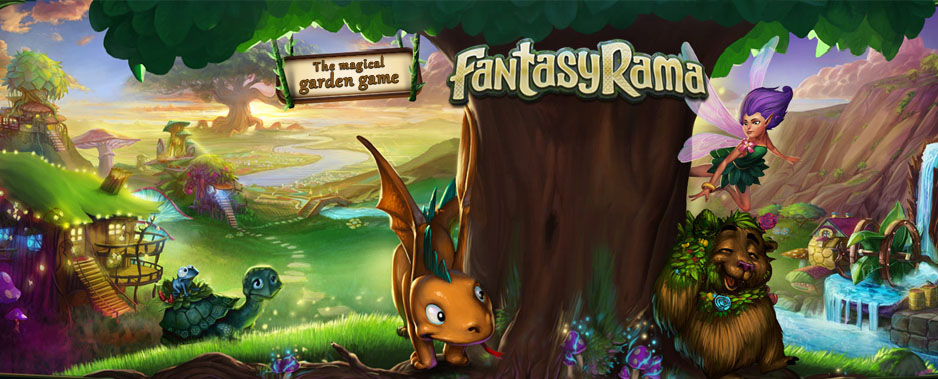 Play absolutely for free
Befriend magical forest creatures
Heal the Great Tree to life
Upgrade your account and get an access to the useful items
Experience the mystical world Add some magic to your daily life with this new colorful and amazing free browser game under the title FantasyRama! Create your own fantasy garden full of magic and wonder! The inhabitants of FantasyRama needs your help to survive and bring back better days. You are going to meet mystical beings like elves, pixies and other creatures, create your own garden and help bring it back to life. Start a magical adventure in FantasyRama and experience this fantastic world and its mystical inhabitants. Nurture the magical creatures around you, collect your magical plants, harness the magical powers of your plants to help heal the Great Tree of Life. It will require a lot of hard work and planning to bring your fantasy garden to life, but it will be worth it! You will also have to protect these cute creatures of the forest from the danger that would bring their ruin. You can do this with powerful elixirs which will help you while you cultivate the lands around you! Gain the wisdom needed to cultivate alluring herbs and plants. If you purchase your account, a wide range of useful things, including getting new or unique items for your farm will be at your disposal. Deep in the forest, the magical atmosphere of FantasyRama is waiting for you. Join everyone, start your adventure right now and have a lot of fun!
REVIEW BY DOUBLEGAMES.COM
The number of browser based massive multiplayer online games constantly grows, as does the number of players, who spend their days playing with their friends over the Internet. If you're in the process of searching for a decent game to kill a couple of hours at work or at home, take a look at a new fantasy online game by BigPoint under the title FantasyRama, which was released just a couple of months ago and has already managed to win millions of hearts all over the world.
If you are sick and tired of space battles, dark dungeons and clicky farming games with strict time limits, FantasyRama is just what you need. The events of the game unfold in the magic garden, where you plant herbs, flowers and fruit trees in order to help the pixies harness the power of magic and restore the Great Tree of Life. The tasks you perform to earn star coins and gain experience are manually taken from the portal, in other words you always have a choice of what plants to grow and in what quantity. As for the money, it can be spent on seeds, trees and magical creatures sold at the bazaar. What items you can buy depends on your experience level, so you always have an incentive to level up, fulfill new orders from the portal, water and fertilize the garden, uproot weeds and gather crops.
In fact, FantasyRama is an ordinary farm simulation game with a few very noticeable differences. First, there are no time restrictions. If you wish, you can plant the whole garden with jade clover and admire a riot of colors, without paying any attention to the tasks from the portal until you get bored with the monotony and decide to get new plants. If you hate rigid time limits that hinder you from enjoying the view of blossoming buds and marvelous animated decorations, FantasyRama will definitely appeal to you. Second, FantasyRama can boast of pretty good graphics with juicy colors and cute creatures. Fantastic plants and fabulous fairies depicted in cartoon style look really amazing, and the background music complements the atmosphere of magic. Third, like most browser games, FantasyRama offers many additional features and bonus items that can be bought for real money, yet here you can easily do without any donation. As we said before, you have nowhere to rush. You do not lose money and experience over time, which means you will never find yourself in a situation where you need to lay out your hard earned money to save your wonder farm.
Combining a fairly calm, relaxing gameplay with colorful graphics, pleasant background sound and fantastic atmosphere, FantasyRama might appeal to those players, who hate difficulties and enjoy doing the same thing over and over again. In general, it's a pretty simple and virtually meaningless game that allows you to switch off your brain and fully relax in front of your screen. If you play computer games to feel the adrenaline in your blood, FantasyRama will seem to you awfully boring. On the other hand, if you get terribly tired at work or have family problems and just want to forget your troubles at least for a while, virtual gardening is just what you need. We won't say that FantasyRama is a true masterpiece of game art, as there is nothing special or outstanding, but we really liked this game for its meditative gameplay, relaxing background music and lush colors. If you need a rest from ordinary action, shooting, strategy and farming games, give it a try!