SKILL GAMES
DoubleGames.com is a home of the most popular and addictive free online games! To try out your skill level and compete with other gamers, you need just your email address! There is a wide choice of cash, tournament and multiplayer games like generally beloved Wheel of Fortune, The Price Is Right and SCRABBLE® Cubes, etc. Are you sick and tired of your daily routine? Visit our game portal then, to bring some color into your life!
Piles of established free games and tons of popular online games are at your service there! Choose your favorite online game to get or improve your game skills, and maybe one day you will be able to play these very online games for cash prizes! Be active and try hard to get Rewards Points, gift cards, cash or even game credits that let you play more of your loved and new games online! WorldWinner.com is highly popular with the experienced gamers and beginners as well. There are over 30 million players, so it is easy to find a worthy opponent. Start your game right now and have a lot of fun at DoubleGames.com!
1) Pick a game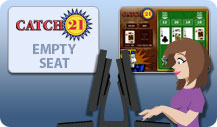 Look through the list of popular games and choose a Warm-Up game firstly, to prepare yourself for greater tournament experience.
2) Get Matched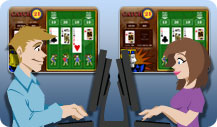 The FairMatching System let you choose a worthy opponent that will match your skill level and even game history.
3) And the Winner is...!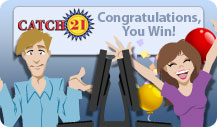 Tournament Results page is the place where all contestant's final scores will be placed as soon as you have finished playing.

Diamond Yatzy
Try this Diamond Yatzy, a dazzling game for two players right now! The game takes after Yatzy Duel greatly, but the dice h...

Bauernschnapsen
"Bauernschnapsen" is a card game, very popular among Austrians! There are four player in game, sitting opposite each other...

Persian Treasures
Are you keen on Sugar or Bejeweled? Then take on this amazing puzzle of the same style, Persian Treasures! Visit these lux...

DartsKing
For this game you should have an eagle eye and great aiming! Do you know this game? Of course, you know! It's the wonderfu...

Backgammon
Backgammon is one of the oldest board game for two players. The game board consists of four quadrants that are divided int...
All Skill Games
All Cach Games