Xblaster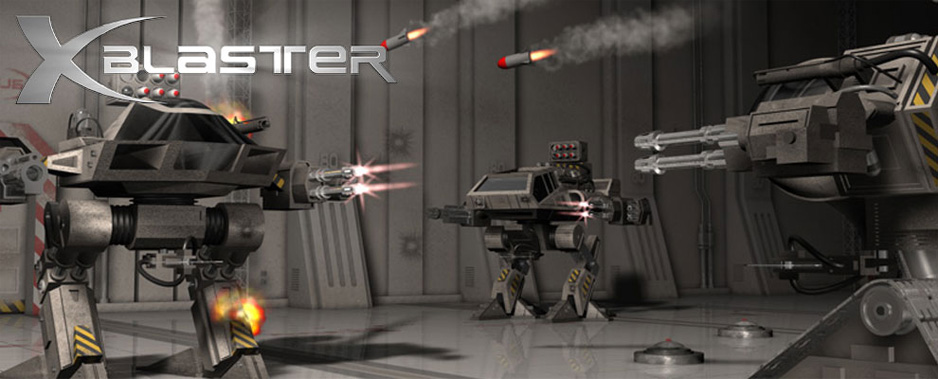 Real time regime battles
Real opponents
Individual armament/additional system
Three different robot-fighters
Several worlds
Look into the future! Imagine the year 2053, the new World War… There is not enough resources. So what else to do? Just fight for it! Your purpose is to get a power over natural resources. Dive in a fantastic world of future, watch how everything can change. You will have to fight with your rivals on arena like many years ago in Rome. But now you will fight as a MechPilot with other robots. Use the last versions of arms and other things and skills. 3-D graphics, action fights, great choice of arm will really swallow your time. High-tech battles against real opponents with sci-fi weapons systems await you in this action shooter!
XBLASTER RELATED GAMES
REVIEW BY DOUBLEGAMES.COM
"XBlaster" is produced and published by BigPoint Company. It is real-time quick multiplayer game which will entertain you. The idea of hard future is really simple, but with the connection of ancient types of battles like gladiatorial fights and two worlds, it gets its zest.
First actions as everywhere: choosing the Mech-robot, its characteristics.
You will not only fight on the arena but also deal with equipment for your machines in hangar, buying new arms and additional Mechs. 3-D graphics and flash-animation will keen your eye and really impress. Rich colors, detailed images will give a pleasure even to a regular players. Realistic sound effects and nice music expand game possibilities.
While playing you will do different tasks and participate in missions. It is really interesting! The gameplay is becoming fascinating and vivid. Intuitive interface is also making the game process easier for player. You can guess the next step. Everything is very clear! In addition, Robot Control is simple, it is using with the keyboard and mouse.
As in any game you will earn skills, get additional equipment/arms, gather credits and bonuses!